CURTIS & SHAW (SUSSEX) LTD ARE DEALERS FOR WEIDEMANN, COMPACT TELEHANDLERS, WHEEL LOADERS

IF YOU ARE LOOKING FOR REPLACEMENT PARTS WE STOCK GENERAL PARTS, FILTERS ETC. WE CAN ORDER ANY PARTS YOU REQUIRE.
FOR MORE ON THE COMPLETE RANGE PLEASE VISIT THEIR WEBSITE OR GIVE US A CALL -
WEIDEMANN.DE
OFFICE - 01323 833441
LEE BROOKER (SALES) - 07483 334448
EMAIL - group@curtisandshaw.co.uk
WEIDEMANN TELEHANDLER
T4512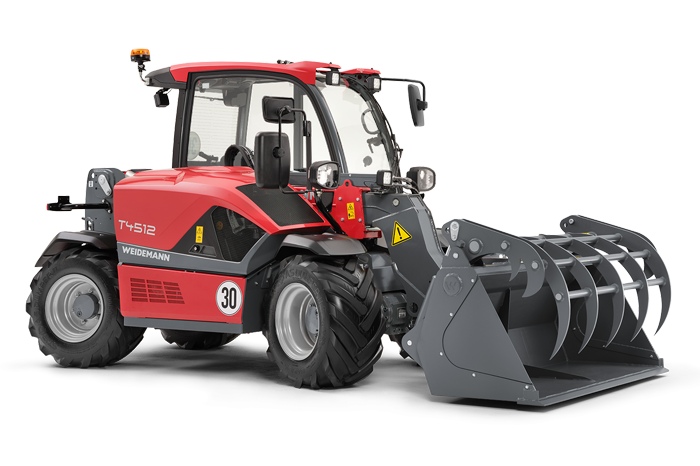 THE COMPACT WEIDEMANN TELEHANDLER T4512 OFFERS A UNIQUE COMBINATION OF LIFTING HEIGHT, WIDTH AND MACHINE CAPACITY: A LIFTING HEIGHT OF 4.5 M ENABLES YOU TO CARRY OUT A WHOLE RANGE OF STACKING AND LOADING TASKS. IT ALSO MAKES LIGHT WORK OF GETTING OVER MOST HIGH-SIDED CONSTRUCTIONS. WITH A SUBSTANTIAL PAYLOAD OF 1.25 TONNES, ANY TYPE OF LARGE BALE OR WEIGHT OF MATERIAL POSES NO PROBLEM. THE MACHINE'S COMPACT DIMENSIONS - JUST 1.56 M WIDE AND A LITTLE LESS THAN 2 M HIGH - MAKE IT A REAL SHOWSTOPPER. THESE "IDEAL DIMENSIONS" ENABLE THE TELEHANDLER TO PASS THROUGH NARROW THOROUGHFARES AND BE MANOEUVRED IN TIGHT SPACES, MAKING IT IDEAL FOR INDOOR WORK.

- YANMAR 3TNV80FT 3-CYLINDER ENGINE
- 25hp
- 2600rpm
- WATER COOLED ENGINE
- OPERATING WEIGHT (STANDARD) 2750 - 2900kg
- PAYLOAD MAX 1,250kg
- 33L FUEL TANK
- ARTICULATED STEERING
- 5,820mm TOTAL WORKING HEIGHT
- 1,564mm TOTAL WIDTH
THE WEIDEMANN WHEEL LOADERS MAKE EVERY WORK APPLICATION EVEN MORE PRODUCTIVE. FOR IN ADDITION TO A HIGH LEVEL OF FUNCTIONALITY, WORKING COMFORT AND EXCELLENT SAFETY STANDARDS, THEY HAVE A GREAT DEAL OF POWER AND ENDURANCE – WEIDEMANN OFFERS YOU THE RIGHT SOLUTION FOR EVERY TASK.

| | | | | |
| --- | --- | --- | --- | --- |
| WHEEL LOADER | ENGINE PERFORMANCE | OPERATING WEIGHT (STANDARD) | TIPPING LOAD WITH BUCKET - MACHINE STRAIGHT | TOTAL WIDTH (mm) |
| 2080LP | 45 (61) | 3,900 | 2,898 - 3,028 | 1,415mm |
| 2080 | 45 (61) | 4,200 / 4,300 | 3,020 / 3,320 | 1,410mm |
| 3080LP | 45 (61) | 4,600 | 2,626 | 1,663mm |
| 3080 | 55.4 (75) | 5,100 | 3,270 | 1,580mm |
| 4080LP | 55.4 (75) | 5,760 | 3,270 | 1,742mm |
| 4080 | 74,4 (101,2) | 5,900 | 3,764 | 1,750mm |
| 5080 | 100 (136) | 7,000 | 4,762 | 1,990mm |
| 9080 | 100 (136) | 10,722 | 5,290 | 2,390mm |